How Our Service Works
Our free consultation service is available to Georgia healthcare professionals who treat pregnant or postpartum birthing parents. We do not consult directly with patients. 
If you are a parent seeking support, please visit our For Parents & Families page.
Your Perinatal Patients Need You
Did you know that…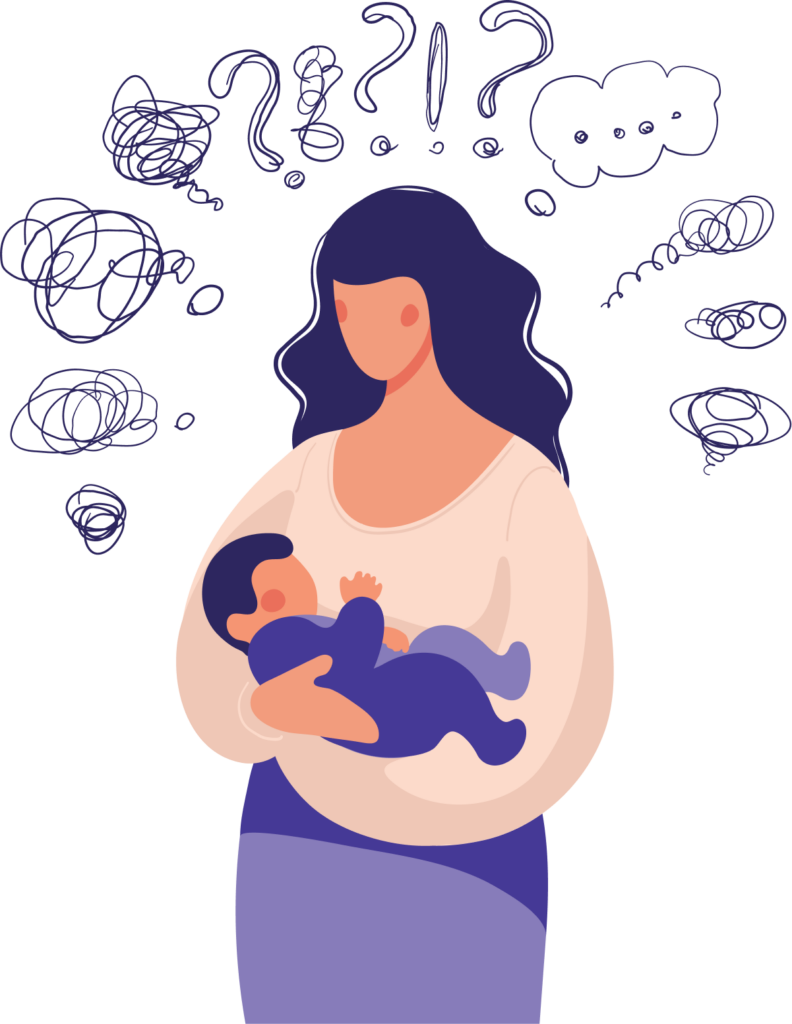 More than half of the counties in Georgia have neither a psychiatrist nor an obstetrician?
1 in 5 patients will experience depression or anxiety while pregnant or postpartum?
Birthing parents in our state are in dire need of support. When patients seek help or are advised to see a psychiatrist they face a variety of barriers to accessing the mental health care they deserve:
Insurance & Financial Issues: Many psychiatrists and therapists are not credentialed with insurance companies or Medicaid/Medicare. For the patient, the cost of care can be prohibitive.
Long Waitlists: Due to the shortage of mental health professionals, patients may wait months before a first appointment.
Geography: According to the 2020 census, 24 counties in Georgia had fewer than 10,000 residents, and about another 50 counties had fewer than 25,000. Mental health professionals are less likely to practice in these counties; the drive to a more populated community may be arduous for a patient.
Lack of Specialists: Many psychiatrists do not feel comfortable taking care of perinatal patients, so patients may have difficulty finding a caregiver willing to treat their unique needs.
These circumstances mean that your patient is depending on you — their healthcare provider — to help them obtain the mental health care they need.
PEACE for Moms can help you and your patient overcome many of the barriers to mental health care. In short: PEACE for Moms can help you help your patient.
This is NOT an emergency service
PEACE for Moms provides perinatal psychiatric consultations and is NOT an emergency service. We do not provide urgent or emergency consultations. A provider who calls regarding a perinatal psychiatric emergency will receive recommendations from our community advisors, and will not be connected to a psychiatrist. TEST
How the Process Works
Register. The registration process takes less than 5 minutes, and provides us with essential information for supporting you and your patients. Pre-registering is optional and reduces the initial consultation time. Register now.
Request a consultation. You or one of your staff members can call us at 470-977-3223 to speak with a community advisor. During the brief call you will be asked for basic information about the reason for your consult, basic demographic information about the patient, and a convenient number for us to return your call.
Receive a call back. If it is convenient to you, a psychiatrist will call you back within 10 to 30 minutes. Our community advisors can also schedule a mutually advantageous time for the consultation. The psychiatrist will help determine the appropriate diagnosis, treatment and support options for your patient.
Continue caring for your patient. We are a consultative service only. You will continue managing care for your patient. We can refer you to local services if your patient requires ongoing psychiatric care.
Prepare for Your Consultation
When you call our consultation line to discuss a patient, please be prepared with the following information. The more information we have, the more we can help you come up with a good plan for your patient. Note: It does not need to be the clinician that provides the information; it can be a nurse or MA.
Patient's name and DOB
Patient's phone number and email address
Date of delivery or EDD
Current medications
Past medications, if known
Results of all screening tools used
Current insurance information
Substance use history
Who's Eligible
Our consultation service is available — completely free of charge — to physicians, physician assistants, nurse midwives, and nurse practitioners who are licensed in the state of Georgia. You treat patients who are currently pregnant, within 12 months of delivery, or are planning to soon become pregnant.
How We Can Help
PEACE for Moms' psychiatrists can address a variety of concerns you may have regarding your patient. Feel free to contact us with any questions regarding your patients' mental health needs during preconception, pregnancy, and the postpartum period.
Common issues include:
Pregnancy planning for patients with existing psychiatric illnesses
Support for processing pregnancy and perinatal loss
Referrals to community resources, including ongoing psychiatric care
Determining an appropriate screening tool for a specific patient, or for your practice
Interpreting the results of a screening tool
Initiating an antidepressant or another psychotropic medication
Adjusting an antidepressant or another psychotropic medication
Coping with medication side effects
Addressing illicit substance usage in a patient
Ascertaining which form of psychotherapy many best help your patient
Are You a Therapist?
Are you a therapist, psychologist, counselor, social worker, licensed marital family counselor, or advanced alcohol and drug counselor?
We are developing a directory of Georgia therapists who specialize in or have an interest in perinatal and/or maternal mental health. We will share this directory with local physicians and patients who reach out to PEACE for Moms looking for a local therapist.
Are You a Birth Worker?
Are you a doula, lactation consultant, childbirth educator, prenatal massage therapist, or newborn night nurse? Do you have an interest in perinatal or maternal mental health?
We are developing a directory of Georgia birth workers to share with local clinicians and patients who reach out to PEACE for Moms looking birth and postpartum support.