About PEACE for Moms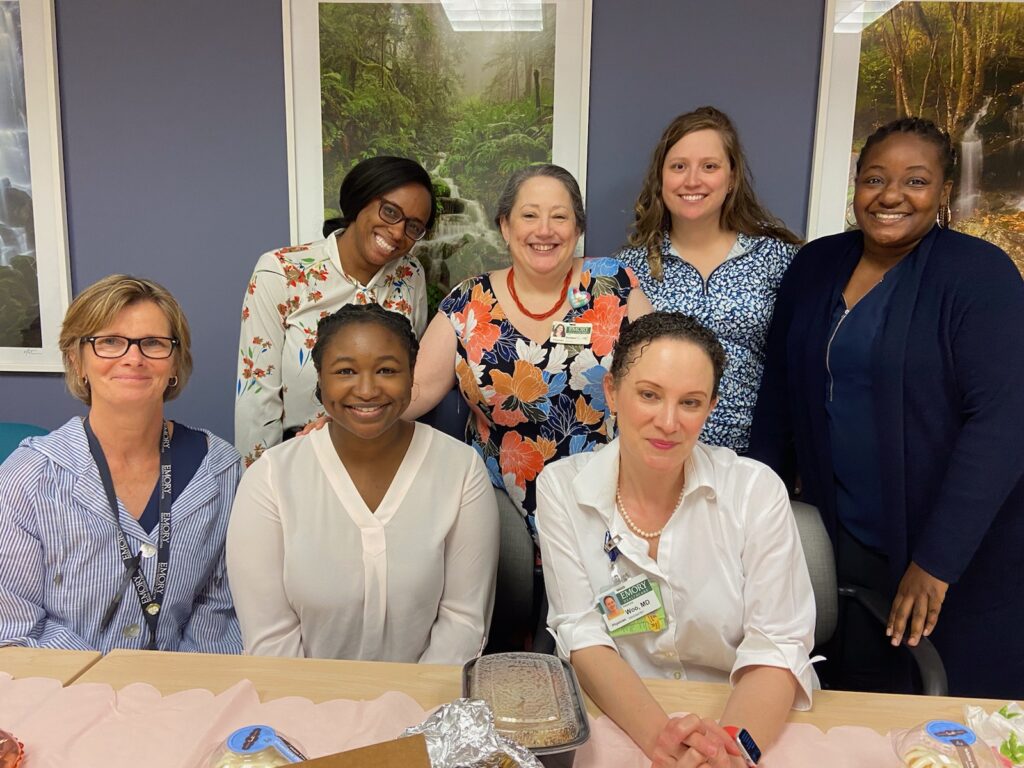 PEACE for Moms (Perinatal Psychiatry, Education, Access and Community Engagement) is a perinatal psychiatry access service which aims to reduce health disparities and improve healthy birth outcomes throughout the state of Georgia.
Funded through the Georgia Department of Public Health, this program enables clinicians throughout Georgia to access expert mental health care and improve their ability to identify, treat, and potentially prevent mental health disorders among pregnant and postpartum patients.
PEACE for Moms' perinatal psychiatrists will provide consultation for clinicians. They will answer specific questions about your patients or general questions about treating mental health issues in this population. This consultative process will allow you to continue treating your patient, now equipped with additional information.
Our goal is to help clinicians improve their capacity in the treatment of mental health and substance use concerns. The program is staffed five days per week by perinatal psychiatrists of the Emory University School of Medicine Department of Psychiatry and Behavioral Sciences.
What We Do
Clinician-to-Clinician Consultations. Any physician, nurse practitioner, midwife, or physician assistant (or a member of their staff) may initiate a consultation to discuss the perinatal mental health concerns of their patient. Consultations may provide general guidance, or may be directed to a specific patient's needs. When appropriate, PEACE for Moms clinicians may provide a one-time telehealth consultation with a patient. Start a consultation.
Referral to Community Resources. To further support patients' wellbeing, we will assist in the finding of services and programs to benefit the patient. Those may include mental health care agencies, programs addressing social determinants of health, patient support groups (like Mothers and Babies), and other referrals to services for other members of the household.
Community Education. The PEACE for Moms team is highly motivated to improve the capacity of those they serve. We are available to offer lectures to groups of medical professionals, residents, or patients in Georgia. Topics covered can include postpartum depression, postpartum anxiety, general perinatal mental health, or a customized topic for your group. If interested in bringing PEACE for Moms to your group, please email us at: peace4moms@emory.edu
Who We Assist
We provide consultation services to healthcare professionals who are:
Physicians, nurse practitioners, midwives, or physician assistants;
Licensed to practice and prescribe in the state of Georgia;
Practicing in obstetric, pediatrics, primary care, and/or psychiatric settings; and
Serving the healthcare needs of preconception, pregnant, and/or postpartum patients.
Why Mothers in Georgia Need Our Help
On a national level, in the United States:
Anxiety and depression affect 1 in 5 pregnant or postpartum patients.
Suicide is among the leading causes of maternal mortality. Suicide attempts have increased by a factor of three over the last decade.
Among individuals who die between conception and the 12th postpartum month, approximately 10% have died due to psychiatric-related illness impacted by the pregnancy.
The importance of maternal mental health has been emphasized by the National Institutes of Health, American Congress of Obstetrics and Gynecology, and US Preventive Services Task Force.
There is a national shortage of practitioners, especially those in primary care.
In Georgia, the situation is more dire. Georgia has one of the highest maternal mortality rates in the nation. Between conception and the year after the pregnancy ends, persons of color die at a rate nearly three times higher than white patients in Georgia. Contributing to these statistics is that more than half of the counties in Georgia have neither a psychiatrist or an obstetrician. Family physicians and internists are in short supply throughout the state.
These conditions are compounded by a lack of insurance coverage for mental health services. Georgia Medicaid services cover nearly half of women during pregnancy and up to six months postpartum; this results in many individuals being unable to continue or initiate their mental healthcare.
PEACE for Moms is determined to help you improve the situation for new parents in Georgia.